Opening our window to the natural world...
I was trying to save a PSD file in my computer. But, there's no space. Need to delete some of old files and get some space. While searching files to delete found the below blog that I've wrote around three years back. Still I found it interesting and thought to share it with you. Here we go back to three years…
We were about to start our new business. We worked day and night to get a good start to the business. Meanwhile, we have got some online business projects to do in a well-known company in Sri Lanka. It is a good opportunity for us to increase our company image and to have a good start. With a very little investment (We have invested only Rs. 11,000 for the server) we have got many businesses. Financially we became bit strengthen. Life became more and busier with our current job and these business projects. Many days we slept less than four hours since we need to complete tasks on time and we know beginning is more difficult until we make things smooth. With this busy lifestyle we really needed a break.
Great!!! There is a long holiday with five days. We badly wanted to go somewhere in this holiday. Hence, we have planned a trip to Trincomalee and invited to our best click to join with us. Everything was fixed for the trip, only participants were pending. Some said Yes, Some said No. Finally, there were only three for the trip including me and my husband. All the others were busy with their schedules. We really didn't want to miss this holiday because we were seeking break from our busy lifestyle. Two of five days have already gone to gather people. Just three days are remaining.
Then my husband and me decided to go somewhere and within one hour internet browsing we have managed to find a good place at Knuckles which is called Corbets View. We quickly got a call and made bookings and decided to go there in the next day itself.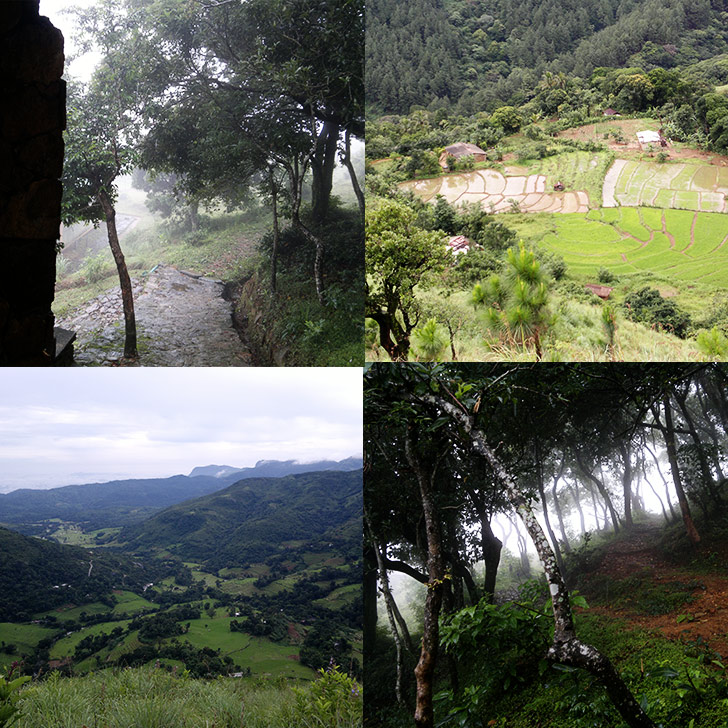 Early morning in the next day (7.00 AM is early morning for us) Anyway, around 2.00 PM we have reached to our destination – Corbets View. It is a very small place situated in a calm and cool place surrounded by lots of Mountains. We were welcome with a cup of "Belimal and Hakuru". Bungalow we got is also a different one. There were two notices inside the bungalow which touches my heart a lot. As entering to the room there was a note on the door saying "Feel the natural touch, bear footed inside the bungalow". They don't have electricity except solar power. So, the other notice one was, "Save power as possible as you can until sun rises in the next morning". At that day we couldn't go out and we couldn't see anything because of the heavy mist. Gradually weather became cooler and we couldn't even open the door. That night we really felt the so called natural touch. We couldn't even touch the floor without slippers.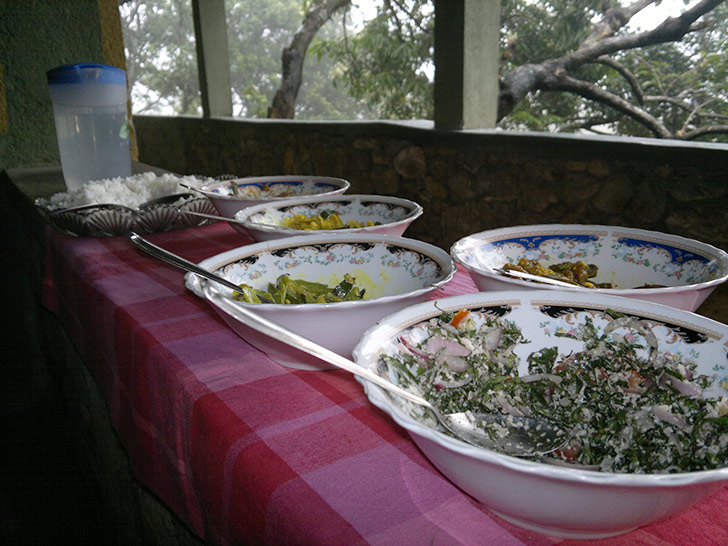 Specialty for dinner there was "Baked Bananas". That was the first time I tried baked bananas though it was somewhat difficult for me to eat. We had nothing to do at night. No TV, no any electrical equipment and nothing except two CFL bulbs which hardly give some light. At night it was very difficult for us to bear the cool but, a great feeling and most important thing is, that was a great weather for me to have a nice sleep.
Sun rises for the next day. No misty environment. We can see everything. When I go out of the room, I was surprised by the noise I heard. It was exactly the birds' sound which we can hear in their site. I actually heard that sound. It was very nice and I never forget the feeling I got at that time.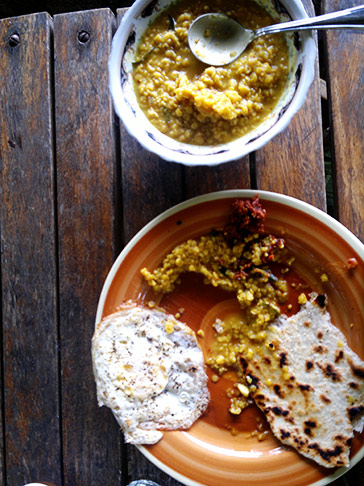 Rotti, Margarine, Lunu miris and Dhal for breakfast. Mmmmm. Tasty. After breakfast we went out to have a look around. Surrounding is really beautiful and attractive. Clouds kissing peak of the mountains, Greenish environment, No houses, No people everything give a great natural experience. We were amazed by that environment. Oh my god. There are three leaches on my leg. I hate leaches. Thank god, my husband doesn't hate them.
Then with lots of nice memories and photos we packed our luggage to come back. On the way back we could see that there were very small houses near those narrow roads. Those houses were very small and they we could see that those people hardly satisfy their basic needs. Near a small bend in the road we could see that there was a small house. That house was special because on the way to Corbets View we saw that there was a very old lady inside that house and she was sitting on a small bench. She looked at us and gave a very innocent and genuine smile. So, on the way back we have decided to get a photo of that house and slow down the speed of our car. At that time suddenly a man came out from that house and he was asking something from us. That man is not in a proper mental condition and my husband asked "What do you want?" He said "Money Money". Then we gave him some money and my husband got a photograph of him. Then he said, "Please bring one of this when you are coming in the next time". He asked a mobile phone for him. He doesn't even know what a mobile phone is. Then he got our money and ran into his house with hell of happiness. They were very innocent, genuine and hardly satisfy their basic needs. I cannot even think of their lifestyle. After an amazing trip to Knuckles, around 6.30 PM we came back to our home. It was a great trip. We got the change to our life we were expecting for a long time. Great change, great experience, great two days, I never forget.
Finally, one thing I should say. When I want to have a break, I actually go to Corbets View site, close my eyes and hear that birds' sound. When I hear that sound I feel as I am at that place. It really works for me. So, visit that place and try it out.