A Guide to Men's Shirt & Tie Combinations
Today, most of men have a terrible taste of matching shirts and ties. Your fashion has to take a back seat while you have a busy working schedule in the whole week, right? But do you know, to showcase your love of fashion and style within a formal environment, getting a best shirt and tie combinations is one of the best ways? But keep in mind, this shirt and tie combination is extremely easy to get wrong also.
You should always try to buy nice ties. But, don't misunderstand that nice doesn't necessarily mean expensive, but it should be a tasteful tie. Most of time, you will have a deflect attention to your outfit, if you wear a tie with textured and matte finishes. And it makes easier to wear too. And, do you have a problem with getting a decision whether to opt for a standard or skinny width tie? Generally, your tie should be as close to the width of your suit lapel as possible.
White shirts are the most versatility colored shirt. You can select and wear a preppy stripe, tartan check or knitted navy version tie or any other type of tie with a white shirt. But keep in mind, the design of your selected tie should be matched with the occasion that you are attending.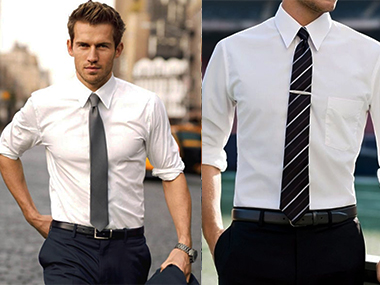 Blue/Pink shirts are the perfect colors that you can show off your color matching prowess to others.
You can select darker patterned or textured ties (in the same family) as well as knitted navy version or navy polka dot tie with sky blue shirts. And also, the burnt orange tie and ties in shades of burgundy/oxblood or mustard/gold are some other ideal combinations to sky blue shirts.
You can try purple and violet colored ties for this type of shirts. Because of the complementary at green color, matte khaki shade tie will be a bold choice, if you select it. And it will highlight you among the crowd too.
The block-color ties are the ideal matching with stripped shirts. But here, you should keep in mind, that the size/scale of the patterns combination should be changed always (Example: you can match larger and patterned ties with thin stripped shirts). And another thing that you should remember is to simply vary the orientation of the stripes you combine (Example: the horizontal or diagonal stripped tie can be combined with a vertical stripped shirt). And also, the polka dots, paisley and geometric designs are matching with stripped shirts.
For the checked shirts, it is always required a larger pattern on your tie. Then it will avoid the tie becoming lost. And also, you can use stripped ties with checked shirts. But you should choose a tie with a big bold stripe so that it can easily compete with the shirt's pattern.