How to select the perfect bra
Wearing the wrong bra makes you feel uncomfortable, less self-confident and it can make your whole day worst. To show the real beauty of your body perfect bra is an essential thing. Moreover, you should not wear the same bra for every dress. Based on the dress, based on the time, and based on the occasion you should change the bra type. With bit of prior planning you can find the perfect bra for you.
Find the correct bra size
Your bra should not be too big or too tight to you. It should fit perfectly without making you uncomfortable. Before purchasing a bra always measure your band size and then select the bra. Your breasts also change along with your body size. So, each time before purchasing a bra it is better to measure your size. If your measurement is 33 ½ round it up to the nearest big whole number. That is 34. If your measurement is 35 you need to try both 34 and 36 before purchasing. Further, you need to have a good idea about your breast size. Many women in the world have one breast larger than the other. Therefore, measure the larger one and select the cup size. With the band size cup size also changes. Therefore, if you want to change your bra from 34C to 36 size, don't select 36C.
Easy to adjust, changeable bra straps
To show your real beauty, your nipples should be halfway between your elbow and shoulder. If nipples are lower than that you need to tighten your bra straps and lift. Select a bra with easy to change and easy to adjust bra straps.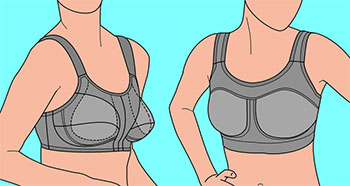 Make sure the bra fits well
Make sure your bra fits to you properly and hooks are easy to put and fit. Also, you need to make sure the straps are adjustable so that you can adjust it to your size. Not only the hooks and the straps, if your breasts are spilling out of the bra cups you need to think about a different size.
Select the correct style and the material
You need to select the correct bra style based on the size and the shape of your breast. Don't worry thinking that your breasts are too small or too big. Perfect type of bra will make you look great. Don't stick with one style. There are various designs of bras in the market. Try out them and select different bras based on situations. If you are going for a party, decide which kind of bra you need to get maximum beauty out of your party dress. When exercising make sure to wear a sport bra. During exercising always wear a sport bra. If your breasts bounce or moves too much during exercises, the supportive ligaments of your breasts may break. Sport bras minimize this risk. The fabric of the bra is also a very vital thing to take into consideration.
Select a quality material
Always select a bra with high quality material. It should be a lasting material how often it's washed and worn. Some bras get stretched out after few washes.