Women's guide to live in a SMART HOME
It's exactly 03 years ago we've decided to build our new house. From the planning stage even we had a feeling in our mind that this should not be a typical house. The land we have taken to build our house is covered with lots of trees. So, we wanted our house to be a very open one, so that we can get more natural view, more natural ventilation and natural light in to our home. Instead of having more brick walls we have decided to have many glass areas so that we can open those glasses and make our home an open one.
We found a good architecture and he was very flexible to our ideas. Having discussed with us he came up with a nice housing plan with more glass walls. The structure of the house was really an uncommon one. So, my husband and I liked the plan and then started building the house.
As time passes we were able to complete many parts of the house and then we started setting up glass walls and windows. Once those glasses are set up I had a doubt in my mind about the security of the house, because anyway the security is less with glass walls than brick walls. Hence, I always wanted to do something to ensure the security of our home. I searched many options for that like setting up iron poles have some locks, iron gates and etc. But, all these methods destroy the natural view we wanted to get and may spoil the modern look of our house. Those days, I was always disturbing my husband telling that our home is not secured. In every time what he told me was "Don't worry about the security. I have a nice plan for that".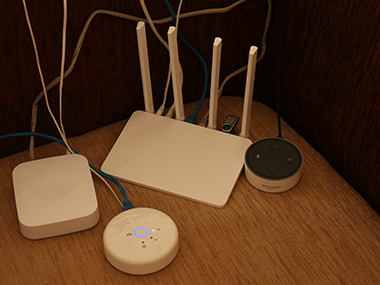 By the way, I forgot to tell that, my husband is a computer guy and very keen on modern technology. When we were in our old home, he had purchased few HUE LIGHTS which can be automated. He showed me some features like light on based on the motion, color changing and etc. But, I didn't feel a big specialty with that bulb. Further, he fixed an automated lock to the front door in our new home called "Yale Security System"
Back to current day…. One day a small parcel arrived from ebay to my husband. He told that it was a multipurpose sensor. Few days later another parcel came again from ebay and those were some motion sensors. He told that all of these things are to set up our security system. I didn't have a clear idea about these modern security systems and I was wondering what he is going to do. Again, few weeks later once a device called "Amazon Alexa" arrived to our home, he told that now all required things are completed to set up our security system. Those motion sensors were fixed inside and outside the home and Hue bulbs were also fixed. He had done all the programming parts and completed the security system.
Now we live in a SMART HOME. Our life is so easy. We can control almost all the things in our home with Alexa and our mobile phone. If I forget to switch off the kitchen light, I don't want to come back again and switch off the light. I can simply turn it off via my phone or I can ask Alexa to do it.
In the morning when I get up I don't go to each and every switch and turn them on. When i walk the relevant lights switch on automatically in my path. When sun rises, I don't worry to switch off the lights. They themselves switch them off when enough natural light is there. Not only that, at night even when I leave kitchen or a room I don't switch off lights. If there is no motion in the relevant area, lights turn off. The best thing here is, sometimes we forget to switch off lights. If we use a normal light we have to come back again and switch it off. Sometimes, we switch them on at night and in the morning only we realize that we didn't switch off some lights. With automated bulbs this never happens, they know when to switch off the light and when to switch them on.
I have a toddler who is 1 ½ years old. When she is in sleep I was worried to go to the kitchen or any other places in the house. Even if she is asleep I wanted to keep my eye on her. Now, our multipurpose sensor helps us to ensure the security of my baby. When she is sleep I keep multipurpose sensor on the bed. Even my baby gets a slight move we get an alert to the phone that baby moves. You may think that when if you don't hear the alert. Don't worry. Same time once the multipurpose sensor detects a motion our lights turn into red and they begins blinking. So, we know it's time to check the baby. The best part here is, now baby knows this device is the best way to inform her parents that she is awake. Now, most of the days when she gets up in the morning, instead of crying or calling us, she used to get the sensor and shake.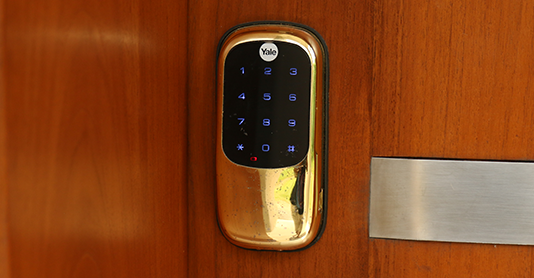 From the day we have decided to build a glass house I was worried about the home security. Motion sensors are the solution that my husband found for that. Those were set up inside and outside the home and just 05 sensors are able to cover my whole home. When those sensors detect a motion it sends an alert to the phone that this sensor detected a motion. We know which sensor detected the motion and where to check. Not only that, when there is a critical security issue Alexa plays a siren sound.
Everything is automated now. We have many automated security profiles like "I'm Away, I'm Back, Monitor Ground Floor, Monitor Outside, Good Night, Good Morning & etc."
When we are about to go out, we ask Alexa to unlock the door. We go out; we ask it to lock the door. Alexa does many things for us. As I mentioned earlier our door locks are also automated and protected by a password. I have no hassle of locking the door manually and keeping the door key in a safe place. I just need to ask Alexa or the phone app to lock or unlock it.
When we go out, our security system automatically detects that we are out of home and it switch on full security features. When we come back, it automatically switches off the security system and unlocks the front door for us. Not only that, if we come back home at night, when we reach home it switches on the lights even.
As I mentioned earlier, we now really live in a SMART HOME. This is a type of home what we always dream about. Finally, we achieved it and it made our life so easy. So, this is my feeling about our smart home and how my life becomes easy as a wife. Interested in living in a smart home? My husband will let you know how to set up this full featured security system in future.