Do you really want to become an online freelancer?
Are you a person with lots of free time? Do you really want to get maximum out of your free time? Here is a simple guide if you need to start.
There are many sites which facilitate online freelancing. The important thing is to find out a reliable site. Today, we are going to talk about that kind of site. That is oDesk. There are many Sri Lankans who are working on oDesk.
First of all you should sign up on the site and create an attractive freelancer profile. Follow the blogs of other successful freelancers. Simply, the client needs something to believe that you'd not mess with him/her. After creating a profile you are entitled to apply 02 jobs. Then you have to complete the oDesk readiness test. After completing this test you will be able to apply for 05 jobs. Thereafter, oDesk recommends you to do some online tests. Work on these skills tests matches with your qualifications. Those tests help you to increase your job quota. Do not waste your time doing irrelevant tests. Once passed more than 04 tests your quota will be increased to 20. That is the maximum number of jobs you can apply. This quota refreshes twice a day. Applications more than 7 days old do not count against your job application quota. Declined, withdrawn and client-initiated applications also do not count.
Jobs are categorized in oDesk and you can select jobs based on your qualifications and skills.
Many factors need to be considered before applying for a job. One thing is you have to make sure you meet all the qualifications what your client is looking for. For an example, if your client needs applicants with less than $3 hourly rate and your rate is $4, it is useless to apply for that kind of jobs.
Other thing is you should check whether your client has good reviews. The important thing is you have to check whether the client has verified his payment method. If client has verified his payment method and has a good online hiring history the risk is very low.
Initially, you will have to apply for several jobs since you don't have online job experiences. Normally, you would not get a single job after applying for about 40 jobs. This is a very hardest obstacle to jump. Many give up at this stage. That is not a reason to be discouraged. Do not give it up. Keep applying. No sooner you will be selected for a job. Main reason for rejecting applications is a bad covering letter. Focus and write a significant covering letter for each job.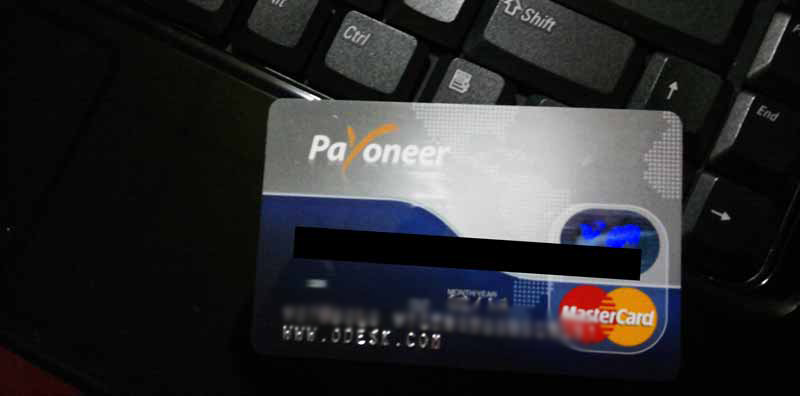 There are 02 types of jobs in oDesk. One is hourly rate jobs and the other one is fixed rate jobs. When you do hourly rate jobs you should install "Time Tracker" in your machine. Once you get the first job, do an excellent job and try to get maximum positive feedback from the employer and it will be helpful to find more jobs easily. Also your first job will not be profitable for your effort. The thumb rule is, you don't need to focus on profit from your very first job, what you need is experience to pump up your profile.
Most important thing comes finally. How do you get paid? "Payoneer" is a very easy and reliable method to withdraw money from oDesk. First you have to set Payoneer as the payment method and then Payoneer will send you an ATM card. After that, you should transfer money to Payoneer from oDesk and that money can be withdrawn from any master card accepted ATM machines. There will be charges applicable when transferring money to Payoneer and when withdrawing money from ATM machines.
We hope these details will be useful for you to get maximum out of your free time. Happy Freelancing :)