Things to Consider When You're Buying a Laptop
There was a time in Sri Lanka even a desktop computer is a symbol of luxury. A laptop was hardly seen even in dramas. They were really expensive devices and there were very few models and options available whether you like it or not. But with the time, the situation is now changed. A laptop is not that luxurious thing anymore and it is an essential for those who're in executive jobs and students of higher education. The changes are also in laptops. Specifications and performances of devices are increased by thousand times and it began to get developed rapidly. Due to these circumstances, one frequently asked question is "what is the best laptop to buy?", and our answer was "It depends on you and your budget". Because now a days, computers are not just machines. They're considered as solutions. So solutions are depended on your problems. So here we have prepared a guide to help you to select the most suitable laptop for your needs.
Think about the real usage of the laptop you buy
Before going to the shopping mall, think and list down your real needs of buying a laptop. May be it's just to surf internet and send few emails in the morning. Or may be to create PowerPoint presentations or word processing. Sometimes to watch HD films on the go or you're expecting to do graphic designing and video editing with the laptop you buy. Normally for internet surfing and Office works, there is no need of wasting money for a "power house" type laptop. Basic configurations will fit for your purpose. But for heavy usages like video editing and graphic designing, or if you're a gamer, you'll have to spend some more rupees for a better performance. Analyzing your needs is a good start. It will save you some unnecessary costs and the sales person can pick out the most appropriate device for you.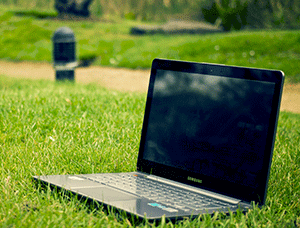 Main reason people buy laptops is the portability. They need it to work on the go. So this stresses out the endurance of laptop battery life as an essential requirement to consider before buying. But, if you use the laptop in office desk and home desk, chances are you're able to plug it while using. Otherwise, if you're using it outside or long trips, consider buying a laptop with a bigger battery backups and some manufactures offer extra battery packs. Or else you'll have to purchase them separately to ensure you're safe on a long trip.
This includes the screen size, the weight and slim shapes of the laptop. Because heavy laptops will make you regret when it comes to mobility. Think several times about the color and the screen size of the laptop. The quality of the screen and its resolution. Sound and the placements of disk drives and USB ports. Miscellaneous options manufacturer offer. (E.g. USB3, Fingerprint reader, Rotatable lids)
For this, if you don't have a big idea, take the help of a friend who knows IT or the sales person if he knows what he is doing. Tell them the purpose you're purchasing this laptop and they'll be able to list out the minimum options you have to have. This should be considered along with the amount you're willing to invest on the laptop.
Some laptop brands offer special services and free softwares with their product. For e.g. Windows and Office Packages. Usually laptop manufacturers include the laptop bag to the package. More importantly you have to check the warranty period and conditions. Some warranties are internationally accepted. You can further do some background search of the manufacturer by simply reading previous user reviews. Plenty of laptop review websites are available on the internet if you google it. Or you can ask questions in social media groups, Yahoo Answers, etc. So previous users will confirm your decision or give alternative ideas. Always keep in mind, Power and the information accessibility of the today's consumer is at very high. So learn to utilize it.