Kathurumurunga Kola Mallum Recipe
Kola Mallum plays a vital role in Sri Lankan main meals. A Sri Lankan meal is not complete if there is no any green dish added to it. Kathurumurunga Kola Mallum is one of very famous and healthy green dishes and can be cooked in many ways. The taste is great when it is cooked as Mallum.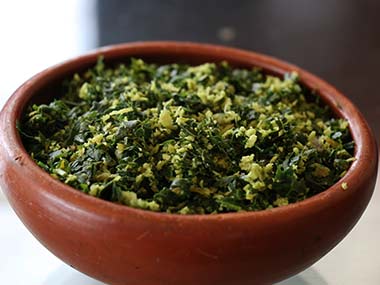 Ingredients
Kathurumurunga 100g
3-4 Sliced green chili
1/2 Sliced Onion
½ cup fresh grated coconut
1/4 tsp turmeric
Salt as per taste
Method
Wash well, drain & slice Kathurumurunga leaves thinly.
In a pan, mix all the ingredients well together with sliced Kathurumurunga leaves.
Cook under low heat for 2-3 minutes.
Do not overcook. Over cooking will destroy the color and nutrition of the leaves.
Switch off the flame when the pan is hot and the remaining heat of the pan is enough to cook the mallum.