Chocolate Covered Strawberries Recipe
Are you boring of giving same chocolate or cake to your fiancé for the Valentine's day? How about preparing something special from your own hands? Here is a very simple and delicious recipe to make Chocolate Covered Strawberries. Express your love in a different way :)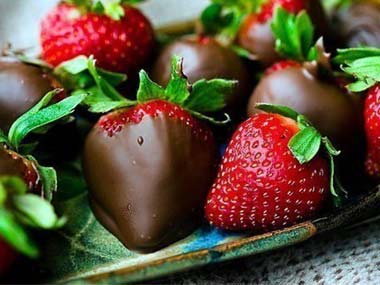 Ingredients
4 ounces semisweet chocolate, coarsely chopped
1 pound ripe strawberries (about 20), washed and patted dry
Method
Prepare a baking sheet with wax paper.
Place the chocolate in a microwave bowl and microwave them until it is melted. Stir them every 30 seconds and make sure all chocolate pieces are very well melted.
Turn off the heat and stir until smooth.
Holding a strawberry by the stem, dip them in the chocolate mixture and twirl them slowly to ensure every corner of the berry is covered with chocolate.
Place the berry on the prepared baking sheet and repeat same with remaining strawberries and chocolate.
If needed, these berries can be decorated with some white chocolate.
Then, refrigerate them for 30 minutes until the chocolate is firm.
This is very tasty when eaten the same day they are made.