Tips for Busy Parents
Becoming a mom or dad is the most valuable thing a person can have in their life. But, this is not an easy thing. Specially, if you have a toddler this becomes more difficult. In these days most are working parents. So, we have to understand how we can balance our work life and family life.
What you feel?
If you have a small baby you cannot make your mind to go to office and do your jobs. What you need is to finish your office works as quickly as you can and come home to see your baby's face. If your baby is in a day care center or with a servant you are afraid of their security also. The other thing is if your baby is not well, your mind is always with your baby. Because of this, you may miss some of your office works and you will get more stressed.
What you can do?
In this kind of situation the most important thing is to understand how you can manage your limited time. Therefore, both husband and wife need to focus on below things. Doing so, both of you will be able to spend more time with your baby.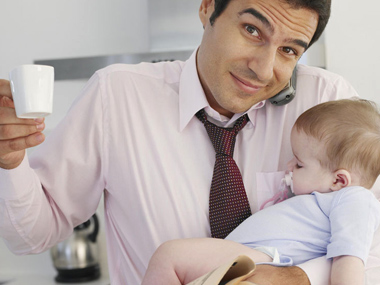 Categorize your priority tasks.
Understand how/who perform different tasks.
How to allocate time for your child's school works or when they become sick.
Allocate time for your family.
Allocate time for yourself.
If you have more than one child allocate time for each and every child.
Plan your office annual leave.
Connection with children
It is very significant to spend more time with your children and enhance the connection with children. It doesn't mean that you have to always be with your children. But, the time you spend with your child should be more meaningful. If not, your child tends to create a gap in between you and them from the childhood itself. The more positive experiences parents share with children, the better the relationship is likely to be.
Some helpful tips
Hold weekly family meetings : Have a family meeting at least once a week. That is useful to increase the bond within your family. In this meeting you can talk with your children and understand their problems and give solutions for those issues before they become very big issues for them. Same time husband and wife can talk each other and understand the issues/difficulties they are currently facing.
Maintain a shopping list/ To do list : You should always stock up the food and other necessary things that your children need. For that it is very vital to maintain a shopping list or to do list. When something goes out of stock in your home you can update your list and can purchase them in the next shopping turn. Also, this will reduce the time you spend your valuable time in the supermarket. For, this purpose you can use a mobile app even.
Invest Sunday evening to prepare for the next week : Invest your Sunday to iron clothes, plan next week events and etc.