Coriander: The Miracle Herb in Your Kitchen…
Coriander is a miracle seed that can be found in your kitchen. This can be used both as a spice and a herb. Dried coriander seeds are in brown colour, with a sweet aroma and warm, mild, sweet taste. The fresh leaves of the plant have a more citrus flavour than the seed. Both coriander seeds and leaves are used in many cuisines due to its great taste. In some countries powered coriander seed is an essential ingredient in almost all meat and fish curries.
The medical properties of coriander are multiple. Below benefits show you why this amazing herb should be a part of your diet.
Helps many Digestive Problems
Coriander is an amazing plant with super talents to solve many digestive problems. The antibacterial, anti-inflammatory and antifungal properties of coriander help to cure many digestive problems. Coriander seed oil is a cure for stomach ailments. Also, coriander promotes liver functions and bowel movements.
Coriander is a rich source of iron, zinc & magnesium, Vitamin C & calcium potassium.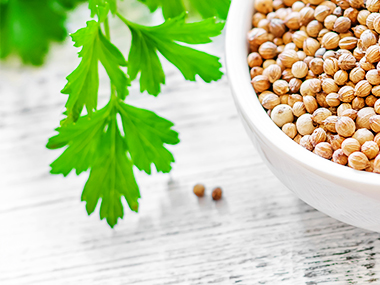 The disinfectant, antifungal, detoxifying & antioxidant properties of coriander helps to heal skin disorders such as dryness and fungal infections.
Helps Lowering Cholesterol Level
Medical properties contains in coriander are very effective in reducing the cholesterol level in the blood. Here the important thing is, coriander helps to reduce the bad cholesterol level and helps to raise the level of healthy cholesterol.
Relieves the Symptoms of Colds and Coughs
A tea made from boiling the whole seeds relieves the symptoms of colds and coughs and stimulates perspiration to reduce fever, while inhaling the steam from the boiling water loosens phlegm.
Arthritis is a very common issue all over the world. Anti-inflammatory properties contains in coriander fights against arthritis.
As a rich source of calcium, coriander is a very good thing for bone health. Coriander increases the bone regrowth process and increase bone durability. Also, coriander lowers the bone degradation process which associates with common diseases like osteoporosis. If you are focusing on your bone health, simply add some coriander to your daily meal.
Other than the above mentioned benefits, there are large number of other benefits of coriander like controls hair loss, lightens dark lips, reduces acne and blackheads, induces peaceful sleep, helps in weight loss and reduces stress.