Halapa – A traditional Sri Lankan sweet
How do you feel when your mother enters to the kitchen with an armful of Kenda leaves? You know what's coming. For sure, it's delicious Halapa. If you haven't eaten Halapa, you are not Sri Lankan. It has a unique Sri Lankan taste. What else you want if you have Halapa for afternoon tea. Halapa is awesome.
Shall we taste this 100% Sri Lankan food with afternoon tea today?
Ingredients
Kithul treacle – 1cup
Sugar – ½ cup
Grated Coconut - 2 cups
Water – ½ cup
Kurakkan Flour – 500g
Salt – ½ tsp
Large Kenda Leaves – 15 – 20 nos
Cardamom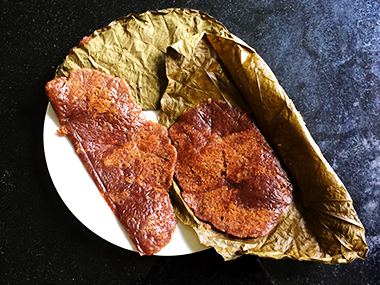 Method
To make pani pol, put treacle into a pan and heat it on the stove on low heat. Add sugar and cardamom into this. Keep it on the stove on low heat until the sugar is dissolved and become syrup thickness.
Add grated coconut into this treacle and sugar mixture and simmer on low heat and keep until most of the liquid evaporates. Make sure to stir this mixture continuously. Otherwise, the coconut mixture will be burnt. Remove it from heat when it is wet and don't cook until it's sticky.
Mix kurakkan flour and salt together. Add this to the pani pol mixture and mix it well until it gets dough form.
Wash and dry Kenda leaves. If you cannot find Kenda leaves, use banana leaves or aluminium foil instead. But, it would not give the same taste as Kenda leaves do.
Take small balls of Halapa mixture and flatten it on one side of Kenda leaf. Fold the leaf from the main vein and close the dough and make it flat more. Repeat this process until all Halapa mixture is over.
Place them vertically around the wall of the steamer, allowing the steam to be exposed to Halapa from the center.
Steam for about ½ an hour until the dough forms up.
Unwrap and enjoy this with a hot cup of tea. A cup of tea without sugar goes very well with this.